Lineage
Pandit Sharad Sathe's music family tree encompasses all Gurus from the Gwalior stream of Indian Classical Vocal music having the musical tradition and knowledge base built over many years. Pandit Sathe was trained by them in the Socratic method of learning.
Pandit D.V. Paluskar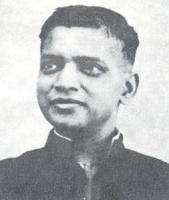 The extraordinarily gifted son of an illstrious father, Dattatreya Vishnu Paluskar was born in 1921. His father, the legendary Pandit Vishnu Digambar Paluskar was ever on the move - spreading the gospel of classical music. After the patriarch passed away in 1931, Dattatreya learnt music from his cousin Pandit Chintamanrao Paluskar, Pandit Narayanrao Vyas, Pandit Vinayakrao Patwardhan and from Pandit Mirashibuwa, disciple of Pandit Balkrishnabuwa Ichalkaranjikar.
To Pandit D.V.Paluskar goes the credit for simplifying the highly complex Gwalior gayaki, and endowing it with a depth of perception and a rich emotive quality. His music, like his personality, was straightforward and touched the very heartstrings. His sudden death in 1955, at the age of 34, was one of the most tragic happenings in the annals of Hindustani music. A promising career was cut short, suddenly and prematurely!
Prof B.R.Deodhar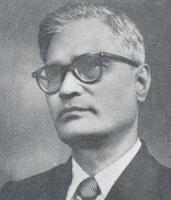 Born in 1901, Prof. B.R.Deodhar was a disciple of the celebrated missionary-musician, Pandit Vishnu Digambar Paluskar. Later, he vastly broadened his insights and repertoire through discussions with various leading musicians belonging to different schools, and in the process, amassed a fabulous collection of rare compositions from practically all the gharanas.
It is as a teacher and musicologist that Prof. Deodhar is better known and venerated as a guide and mentor to scores of pupils. A fellow of the Sangeet Natak Academy since 1964, he was the receipient of the Padmashree Award (1976) and the Tansen award (1983). He was Founder Principal of the Deodhar School of Music in Mumbai.
Prof. Deodhar, who died in 1990, was a prolific, scholarly writer. He has authored several books, biographies and articles on music. He has contributed significantly to the enrichment and appreciation of the finer points of music.
Pandit Sharadchandra Arolkar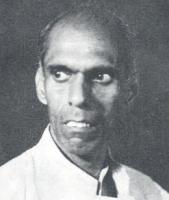 A doyen of the Gwalior Gharana - the fountainhead of Hindustani classical music - Pandit Sharadchandra Arolkar was born in 1912, and groomed in this tradition by three acknowledged masters: Pandit Krishnrao Shankar Pandit, his uncle Pandit Eknath Pandit and Pandit Krishnrao Mulye. He traces his lineage to the legendary Sadarang and Adarang - originators of the khayal - through the late Haddu-Hassu Khan and Nissar Hussain Khan.
Having assimilated the teachings of all his gurus over a lifetime of dedication, perseverance and disciplined scholarship; Pandit Arolkar moulded them into a style which, while retaining its pristine classicism, allows ample scope for creative expression. In one of his rare interviews, he said "What is the Gwalior Gharana but a mahanadi (great river) fed by many streams. When a style matures, it becomes a gharana." He imparted his insights in the aesthetics of music to Pandit Sharad Sathe.
Pandit Arolkar was honoured with the Sangeet Natak Academy award in 1979 in recognition of his scholarly eminence in Hindustani music. Pandit Arolkar died in 1994.
Gharana Tree