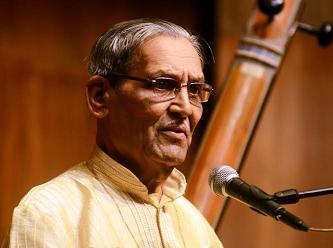 Pandit Sharad Sathe, born February 18, 1932, began his rigorous formal musical training in 1949 in the hallowed guru-shishya tradition with Pandit D.V. Paluskar, son of the famous missionary-musician Pandit Vishnu Digambar Paluskar. He had the opportunity to travel extensively and perform with his guru at several concerts.
After Pandit Paluskar's premature death in October 1955, Pandit Sathe's quest for a guru brought him to Mumbai in 1956, where he continued his studentship under the well-known musicologist, Prof. B.R. Deodhar for nearly a decade. A recipient of a Government of India scholarship, Panditji graduated with the Sangeet Visharad degree of the Gandharva Mahavidyalaya Mandal in 1961 with honours. He learnt from Prof. Deodhar a variety of compositions in several lesser-known ragas.
It was after 1966, when he became a disciple of Pandit Sharadchandra Arolkar, a veteran vocalist of the Gwalior school, that Panditji's talent and musicianship acquired depth, maturity and a new dimension. Pandit Arolkar gave him a new insight into the ideological base of the Gwalior gayaki and handed down to him several rare compositions in khayals, tappas and taranas. The polished grace and depth of expression evident in Panditji's musicianship are the result of his advanced training and refinement under Pandit Arolkar.
Today, Pandit Sharad Sathe is a vocalist who has made a mark on the contemporary musical scene through diligent practice, informed study and assimilation. Although a follower of the Gwalior gayaki, Panditji is an eclectic musician who has kept his mind and ears open to the best that other schools have to offer. A regular performer over the All India Radio and Television networks in the Top Grade category, he has been participating in various music conferences and concerts all over the country. It was a rare honour for him when, in 1972, he was specially invited to sing for the Films Division documentary on Pandit Vishnu Digambar Paluskar.
He toured Nepal in 1968, Dubai and Bahrein in 1993, in addition to his successful concert tours to USA in 1985, 1997 and 2008, to UK in 1985, 1989, 1993, 2008 and 2010. After a successful concert tour of USA in 1985, he was appointed as a resident professor of vocal music at the London centre of the Bharatiya Vidya Bhavan in 1986-87.
Sangeet Research Academy, Kolkata and National Centre for the Performing Arts, Mumbai and Directorate of Art & Culture, Goa have recorded Panditji for their archives. In 1997, Pandit Sathe was invited by University of Washington, Seattle, USA for archival recording of compositions of Gwalior Gharana. Recording companies like Swarashri, Magnasound, Musician's Guild and Meera Music have published Panditji's recording on cassettes and CDs. In celebration of Panditji's 80th birthday, Times Music released a 3-CD Album of his live concert recordings.
Pandit Sharad Sathe, today, is one of the few practitioners of the rich Indian musical heritage. His true identity is found in his impeccable practice, artistic expression of compositions and architectural beauty that characterises his performance. A purist by nature, Panditji continues his journey in search of the unexplored.
For his contribution to Hindustani vocal music, Pandit Sharad Sathe was awarded by Bharat Gayan Samaj with Abasaheb Mujumdar Puraskar in 2002, honoured by ITC Sangeet Research Academy in 2006, by Kashi Sangeet Samaj with " Sangeet Ratna" in 2007, Pandit Vinayakrao Patwardhan Smruti Gaurav Puraskar in 2009, Pandit Wamanrao Sadolikar Puraskar in 2011, Shreevallabh Sangeet Ashram Puraskar, 2013, Govt. of Maharashtra Hindustani Vocal Puraskar, 2012-13, Pandit Ram Marathe Puraskar, 2016, Pandit Janorikar Puraskar, 2017, Hridayesh Sangeet Sewawrati Puraskar, 2019 and Gaantapaswini Mogubai Kurdikar Puraskar, 2019.
Pandit Sharad Sathe is a keen organizer dedicated to the cause of music and arts. Till recently, he was the Vice President of Dadar Matunga Cultural Centre, Mumbai, a premier institution dedicated to the promotion of art and culture. A Science graduate of the Pune University, he is an accomplished commercial artist and a calligrapher as well.